Remodeling bathrooms is on the top of many homeowner's list this year.   Our client's projects, which span a variety of different bathroom shapes and sizes, are ready to embrace the latest bath trends. Here's 4 of the most popular bathroom remodeling trends that are quickly becoming mainstream.
1. True to the theme of incorporating luxury & comfort, heated floors top our list. Who wouldn't want to have a warm floor to great their feet out of the shower or in the middle of the night?  A reasonable enhancement, floor heat mats add value, comfort & luxury all in one easy installation. Tucked easily under the flooring material, this trend brings perennial warmth with a flip of the switch.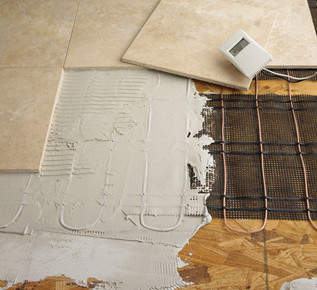 2. Long day? Settle in and wind down by enjoying a relaxing soak!  Soaking tubs are filling the order for function and relaxation. These tubs are fitting in nicely where previously positioned huge whirlpools reigned king. In many master bath remodels, adding a soaking tub while enlarging the shower is the design of choice.  As you might image, the selection for soaking tubs are endless- contemporary, traditional, air moving water, heated back rests, music and the list goes on. Make your choice and sail away!
3. As more transitional, contemporary design trends move forward, glass as a selection for walls and showers, is becoming more popular. It's clean, crisp line and clear color pairs well with natural stone, granite and quartz materials. Available from a mosaic blend to large scale tiles, glass adds that pop of color & sparkle that add to a relaxing retreat environment. Keeping luxury front and center, natural stone remains strong for counter top choices.
4.  Contemporary designed cabinets and materials lead the way to understated material selections with touches of sparkle. White or light cabinet color choices offer a timeless look. White remains top choice for plumbing fixtures. Chrome or polished nickel add sparkle to faucets, shower plumbing, hardware & lights. Gray, with it's endless varieties and sophisticated accents complete the most current bathroom design trends.
Maybe it's time for you to step into some luxury and warm your toes! These bath trends are waiting for you! Give them a try…..